30 Minute Readings!
Phone/Skype Readings - Using the Auracle Healing Cards with Leslie Sloane
Special Offer on 30 Minute Phone/Skype Readings for the month of April ONLY.
It is a very challenging time, a time we're being asked to look deeply into ourselves, to let go and bring Love into our lives in a way we've never known before. In each session, the vibration of Unconditional Love comes through which shifts your consciousness right away. As well, when working with the Auracle Healing Cards or Chakra Healing Cards, their sacred encodings open us to all knowledge, consciousness and truth within the Uni-Verse, and how it works through us pertaining to this life. This ultimately brings peace, clear answers, and releases resistance often felt as pain in the body. It is a wonderful way to help yourself and a Loved one experience a state of coherence (where the Heart and Mind are connected), which allows for healing to take place. It's a beautiful experience all around no matter which session you choose. This offer will be available until April 30th, 2019 at 11:59pm.
30 Minute Session: $225 NOW $125 until April 30th, 2019, 11:59pm
After you purchase your session, we will email you a receipt where you will find a download link to a PDF with instructions on how to book and prepare for your appointment.
Are you interested in a 90-minute in-person Healing session with Leslie?  Click here to read the details.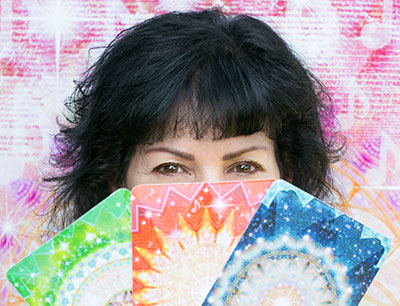 During your reading, you will be asked to choose 4-6 Auracle Healing Cards or Colours from the Colour Chart found at the bottom of this page. Your personal story will unfold and dialogue with your soul, your Guides and Infinite Light will begin. Leslie will translate what your soul is conveying, and how you wish to bring resolve. During this time, you will also receive healing transmissions of Light, fusing your cells with Unconditional Love, or Love without judgment, through each Colour frequency chosen. Before the session is over, Leslie will give suggestions on how to tap into your Divine Blueprint (why you are here), to accelerate your healing process and expand in soul awareness.
Auracle Healing Cards Colour Chart for Readings