Leslie Sloane's Video Blog
Videos to Support Your Understanding of the Auracle Healing Cards
The video blog page is full of enlightening information on how to understand and interact on a much deeper level with the Auracle Healing Cards. JUST ADDED – an "About the Auracle Healing Cards" video as well as "Instructional Video on How to Use the Auracle Healing Cards". Scroll down to view.
You'll also see the video message of the "Color of the Month", plus the other videos of the "Readings of the Week" that have been created over the last year. These videos are excellent tools on better understanding the color vibrations found within the Auracle Healing Card Deck.
What Are the Auracle Healing Cards
How to Use the Auracle Healing Cards
Video Reading of the Month – January 2017
"Our Luminous Nature"
Clear White Light, Level 1
Well, it should come as no surprise especially based upon the many readings I've done in the last month or so, the Clear White Light 1 emerged. It is cyclical…every year this comes up because it is truly a consciousness being shared by all beings around the world.  It is about feeling "Lighter" and "Brighter" in every way. The term "Enlightenment" refers to a state of consciousness where one experiences bliss, emptiness or "no-thing-ness". It is also about Lightening up the energy or sound within our cells through the dissolving of denser matter (coal state of mind with fear based thoughts) carried through the lineages in which we were born. Our name "Hu" or Hue means "Light", and is also another name for the Sphinx. This means one who contains Wisdom of the Uni-Verse…and, we're HU-MAN beings. It's a beautiful fact that ALL of us are composed of God Particles, yet we are so Unique in our own Divine Blueprint, expressions…stories. We are multi-faceted Diamonds, and with every experience we have in life, we are actually carving a Diamond out of our Selves so we may emerge as impenetrable and Luminous as ever before. This is a Magickal process for each of us…and one which brings us closer to remembering who we are as Holy Beings.
From the series, "Readings of the Month".
December 2016
"The Awakening"
Primary Red, Level 2
September 2016
"Destiny"
Primary Blue, Level 2
November 2016
"Rapture"
Burnt Orange, Level 1
October 2016
"The Master in You"
Gold, Level 1
From the series, "Readings of the Week".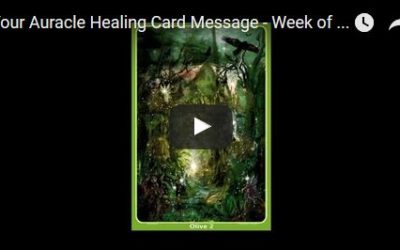 Olive, Level 2, is the Auracle Healing Card picked for this week's reading - Aug 22 - Aug 28, 2016, given by Leslie...
read more