Become Empowered by Embracing the GIFTS of Your Feminine Lineage
Workshop with Self
TOOLS – Experiential Workshop with Self for an extra-ordinary Time.
Join Leslie Sloane for a 4-week Online Transformational Experience.
You can start this online 'Workshop with Yourself' at any time… Your Time! 
This NEW Empowering Workshop was launched on Instagram and Facebook Monday, May 4th. Beginning on this date, we post small extracts of the journey daily for 4 weeks to give you an extra glimpse of the intensity & beauty of this journey.
If you feel it, join us there & tune in with the energy. Leslie will be answering reflections of the community … these can be inspiring for anyone who is considering or has already purchased the 4-week Workshop with Self which is available for only $44.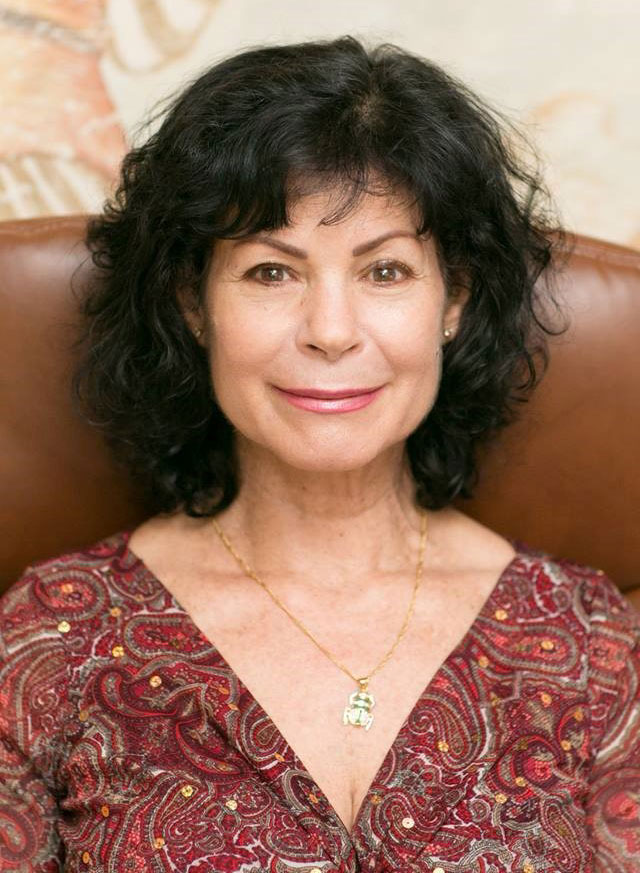 Hi Everyone!
As we all navigate these challenging times, many of you are daily reaching out for extra guidance, support and personal connection. It became clear to me and my team that co-creating an online 'Workshop with the Self', an experiential journey, felt the Best way to transmit and guide MANY of you, through these transformational times … We truly believe that the tools, questions and guidance of this powerful workshop will re-connect you even more strongly to that amazing BEing inside of yourself.
Via our daily guidance on Instagram and Facebook, we are able to interact with many of you and co-create all together a safe and nurturing community there. We decided to keep the price of the full guidance journey as affordable as possible.
The full 'Become Empowered by Embracing the GIFTS of Your Feminine Lineage' experience includes:
Four online video's to guide you through the transformational process, to see the bigger picture, to step into your power, to stay aligned with positivity and to feel the resonance within you so you feel safe to BE & Flourish

Q&A sharings via Instagram @femininesoundexperience & Facebook @Auracle Healing Cards

Downloadable PDF guidance – 29 pages full of wisdom & Love 

4 Auracle Healing Cards with Images & Mandalas specifically selected for this powerful journey – in PDF format

Two Guided Colour Experiential Meditations for comfort & nurturing (Pink & Red)

Possibility to reach out for 20 min personal guidance by Leslie during and after your transformational journey
Package 1 includes :
· Online Workshop with Self
$44
Package 2 includes :
· Online Workshop with Self
· Aubergine Meditation for Nurturing AND Balance !
$66
Package 3 includes :
· Online Workshop with Self
· Auracle Healing Card Deck & Book (shipping incl.)
$164
Package 4 includes :
· Online Workshop with Self
· 20 min Personal Guidance Session
$194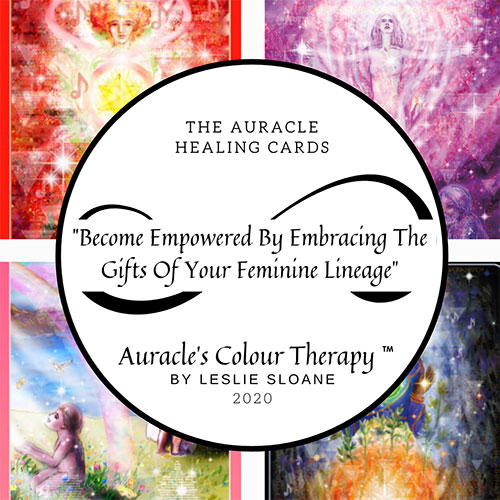 Workshop with Self
'Become Empowered By Embracing The Gifts Of Your Feminine Lineage'
Focus:
New perspectives on your feminine lineages and their GIFTS
Outcome:
You will gain inner-strength and purpose of SELF, an increased confirmation of the wisdom that you have carried all along that you didn't know how to trust nor how to express!!!
It's a journey into the awakening of your internal leadership.
When that happens you know you can be, do or create anything your Soul wishes in absolute Joy !!!
Impact: 
The vibration of Unconditional Love that you will experience in this journey will have a direct impact on you, and your Loved Ones. By engaging daily in the healing exercises given for 4 weeks, you will first "feel" the inner transformation happening in you. Then, you will witness a profound transformation regarding your family dynamics as it begins and continues to unfold.
Your children, the next generation, will become more balanced, empowered, feeling safe & nurtured which will allow them to make their unique choices with confidence linked to what's BEST for their OWN evolution.
Week 1 – Theme / Module
Focus : Self-Acceptance and Integration of All That You Are
Outcome : Feeling more charged with courage than in fear
Tool : Auracle : Luminous Black 2 : The Butterfly Effect
Week 2 – Theme / Module
Focus : understanding how to bridge Love back to your Self, without the need of anyone else outside of you doing this
Outcome : Healing deep feelings of unworthiness and disconnection are crucial for you to move forward in life
Tool : Auracle : Pink 2 : Discovering Self-Love
Week 3 – Theme / Module
Focus : connecting the dots
Outcome : inspiration to "take action" towards things you wish to manifest which are fulfilling to you.
Tool : Auracle : Primary Red 2 :  The Awakening
Week 4 – Theme / Module
Focus : Releasing the suppression of your Feminine Light and Heart's Desires
Outcome : stand in your own Magnificence and rise in Feminine Leadership
Tool : Auracle : Aubergine 1 : Feminine Fires Rising
About Leslie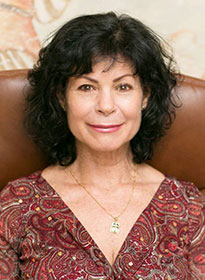 Leslie is an Oracle, Master Healer, Alchemist, and internationally recognized author. She was born with the ability to see Universal energy or particles of Iridescent Light. Her unique gift helps her to create dimensional healing tools of living consciousness through Colour, Light, Sound, Sacred Geometries, Blessings, and words of Love and Gratitude. Whether it is the Auracle Healing Cards, or the newest edition of Chakra Healing Cards, all emit the vibration of Unconditional Love and allow healing through the physical, emotional, mental and spiritual states of being. Each colour vibration immediately moves into the emotionally body bringing Heart Coherence, the balancing of the Heart and Mind. In this interaction through a Heart to Heart conversation with the Soul, all answers can be found within through a state of peace.
Leslie brings an awareness to each soul which expands beyond the 3rd dimension, moving beyond time/space, for multi-dimensional healing and Self-Realization to occur.
During her personal guidance sessions as well as her new online transformational 'Workshop with Self', Leslie helps to bring a deeper sense of peace, joy, and a feeling of safety to her clients by connecting to the inner child, and awakening a profound sense of Self-Love.  One of Leslie's greatest gifts is to see and nurture this beautiful inner being who simply wants acknowledgement and to be honoured as an expression of Source Energy. This allows her to guide people into beautiful states of healing and self-realization through Unconditional Love, as also when she speaks, the vibration of Loving words brings "ease" to each Soul.
By doing this the benefits flow through those who have children as they will also experience the "Lightness" of being of the parent, and will shift the family dynamics all around.
Leslie's latest creation : 'Become Empowered by Embracing the Gifts of Your Feminine Lineage' is a 4-week online transformational experiential journey that synergizes the healing and self-realisation aspects as addressed above !!!
A catalysing workshop, for those who feel ready right now, to connect, bridge and heal their inner child relationship. Leslie has been offering private healing sessions and conducting Colour workshops since 1994.
What is the outcome I can expect from this course? What is it going to give me?
This experience will give you practical tools that you can use in your daily life to navigate situations in relationships, career pursuits, family dynamics and creative endeavors. You'll also learn techniques to reduce stress, stay grounded and set intentions for success and happiness. Attendees at Leslie's past live and online workshops report breakthroughs, healings, and a greater sense of self-worth through the work that Leslie offers. The community that gathers around 'Become Empowered by Embracing the Gifts of Your Feminine Lineage' will also offer you support throughout the entire month (this representing 4 weeks : April 30th – May 27th)
How do we connect to the Free daily support? And what's included?
Daily as off Thursday, April 30th, we will post the reflection questions that we are using as guidance. You can start to sense the depth of the questions and if you have the Auracle Healing Card deck or you already purchased the pdf's of these particular Auracles, then you can dive in to the experience of this amazing 'Workshop for Self'.
The free sharing are the reflection questions, the interaction with the other people that walk the journey with you and the extra guidance by Leslie as responses to questions.
We will post daily for 4 weeks on 2 platforms (starting April 30th) :
– Instagram profile : @femininesoundexperience – Leslie Sloane
– FaceBook Page : @AuracleHealingCards
To be clear, in the free support what is not included:
– the 5 supporting Video's that Leslie recorded that will safely support and guide you from week to week
– the 2 nurturing and comforting meditations for the Pink & Red weeks,
– the 29 pages full of wisdom & Love, supporting you through this transformational path of awakening and empowerment.
Who is this 'Workshop for Self' for?
If  your Heart is calling for a positive experience to bring upliftment and more joy into your life now, this Workshop is for you. We know so many in the world are feeling sad, grief, lonely and confused with the current transition happening in the world. It is a very easy thing to want to shut down and hide, but this course is designed to not only to help you move forward, but to also bring you a feeling of stability, clarity and safety.
How will I receive all the material when I purchase the package of $44?
You will immediately receive via email:
1 PDF with the login & password to view on our platform the 5 supporting video's which will guide you weekly by Leslie, as well as the links to listen to both enclosed meditations. These meditations will nurture & comfort you during the Pink & Red weeks.
1 PDF – 29 pages full of wisdom & Love that will support you through this transformational path of awakening and empowerment.
4 PDFs – representing the 4 Auracles with 4 Images and 4 Mandala's that you will need during this particular Workshop
Will there be opportunities to ask questions to Leslie?
Yes! You can book a personal 20 min session with Leslie, whenever you feel you get stuck in the transformational process during this Workshop with Self.
This session will be fully dedicated to your questions and will be privately handled.
You can book this personal session, easily via the website as subscribed.
A personal 20 min session is for people who purchase the package on a special rate : $95 (versus $150) .
Anytime you have a question that you want leslie to provide feedback on, you can also share your questions on the Facebook page or Instagram page, so Leslie can answer and all other people that walk this journey with you can benefit from the exchange you both have on this particular topic.
– Instagram : @femininesoundexperience – Leslie Sloane
– FaceBook  : @AuracleHealingCards
What's the refund policy?
Due to the digital nature of this Workshop and the detailed description on this page about what is included, we do not offer any refunds.
Package 1 includes :
· Online Workshop with Self
$44
Package 2 includes :
· Online Workshop with Self
· Aubergine Meditation for Nurturing AND Balance !
$66
Package 3 includes :
· Online Workshop with Self
· Auracle Healing Card Deck & Book (shipping incl.)
$164
Package 4 includes :
· Online Workshop with Self
· 20 min Personal Guidance Session
$194
One of my favorite workshops of Leslie's was "Collapsing the Field". I'm very visual so anytime Leslie leads a meditation, Amazing things happen and I'm off exploring so many multidimensional levels of consciousness. Her work does wonders for my life. I'm grateful for her teachings.
Within Leslie's wonderful workshops, I have learned about, experienced, and embraced greater levels of myself. Every color brings me a greater sense of confidence, clarity and joy. I have been able to shed many layers of pain and grief and have tapped into the love, sounds and vibrations of my soul. I can say that I am no longer who I used to be, but I am becoming who I have always been meant to be, a divine spark of the universe. Thank you, Leslie for sharing your beautiful gifts, with myself, my family and all of humanity.
Leslie's workshop was deeply spiritual, interesting, and oh so much fun! She is a joy to listen to, so magical! I truly love the Auracle Healing Cards. I love working with them and are easy to use. I feel they are a living entity. The beauty and depth can be overwhelming. Thank you for your guidance and teachings. Much Gratitude ~
When I first listened to Leslie, I was immediately drawn to her. Without hesitation, I ordered her Auracle cards. When I received them, I was not disappointed. They are gorgeous and beautiful. I felt their power immediately. My first skype reading with Leslie was life changing. The first thing she noticed was the colors I was wearing – the exact colors I picked. Her reading was so accurate, it was reassuring to know that I am on the right life path. Leslie is very passionate about what she does. She is patient, kind, loving, compassionate and took her time with the reading. Her explanations were so explicit and detailed. Gazing into the mandala at the end caused a profound shift within me. I felt the effects of this reading long after it was over. At present, I am filled with love, gratitude, compassion and joy. Thank you Leslie for such a profound soul awakening.
Working with Leslie is like talking to your best friend, only better. She touches on things that you didn't even know were there and then she brings them to light in a loving and compassionate way. She has a wonderful sense of humor and knows exactly how to tell you what you need to hear. "A spoonful of sugar helps the medicine go down!"
Questions? Please use the form below to contact us. Thank you!